Super Bowl LIII – Best Bets and Betting Odds. Get the best odds and a 500% Betting Bonus with Swedish Betting Company UNIBET here. Stats and facts & predictions.
Super Bowl 53: Rams vs. Patriots
Date: Sunday, Feb. 3
Location: Mercedes-Benz Stadium, Atlanta
Kickoff time: 6:30 p.m. ET
TV: CBS
Live stream: fuboTV
Canada: DAZN (30-day free trial)
Super Bowl LIII Best Bets and Betting Odds
Key stats – a bluffer's guide
1. The Patriots have only scored three points in the first quarter in their last eight Super Bowls combined (one field goal against the Philadelphia Eagles in 2018).
2. Sean McVay is the youngest ever coach in the Super Bowl, at 33.
3. Brandin Cooks played in the Super Bowl last year, but for the Patriots (he is now a Ram).
4. These two met in Super Bowl XXXVI in 2002, where Tom Brady won the first of his five rings in a 20-17 victory.
5. This is the ninth Super Bowl Brady and Belichick have played in for the Patriots. They have so far won five.
Winner FT
New England Patriots: 5/7
Los Angeles Rams: 23/20
Bet on the SUPER BOWL 2019 with UNIBET and get a 500% DEPOSIT BONUS here.
Spread FT
New England Patriots -2.5: 10/11
Los Angeles Rams +2.5: 10/11
Over/Under FT
Over 56: 10/11
Under 56: 25/27
MVP
Tom Brady: 1/1
Jared Goff: 2/1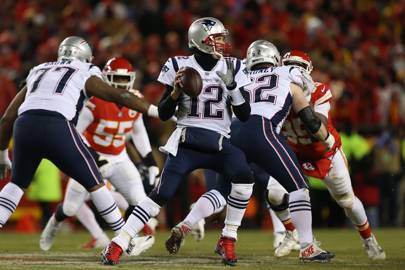 First Touchdown:
Sony Michel: 7/1
Todd Gurley: 7/1
CJ Anderson: 17/2
James White: 9/1
Robert Woods: 10/
Julian Edelman: 10/1
Rob Gronkowski: 11/1
Bet on the SUPER BOWL 2019 with UNIBET and get a 500% DEPOSIT BONUS here.
The verdict
There's very, very little in this, reflected in the market, which has swung towards New England, with Las Vegas – the mecca for NFL punting – having opened up favouring the Rams. At the time of writing a spread of Pats -2.5 looks like it could come under pressure as the army of fans who think they have seen the script pile into the Brady bunch at all angles.
In this game, it's always sensible to have a look at the MVP prices, with each side's quarterback heavily indexed against the money line (winner odds) for their respective side. It's not bad advice at all to look at Tom Brady and Todd Gurley respectively if you want a little bit more juice in the price and an opportunity to cheer yard after yard.
NFL Stats
Read stats to enhance your odds on winning on your NFL bets.
Super Bowl Champions – see the final teams and results from 1967 until today.
Super Bowl MVP Winners – Most Valuable Players in the Super Bowl
Bet on the Super Bowl 2019
Check out the best betting companies in the world on NFL and Super Bowl betting Here.
ALSO READ: Best Odds NFL